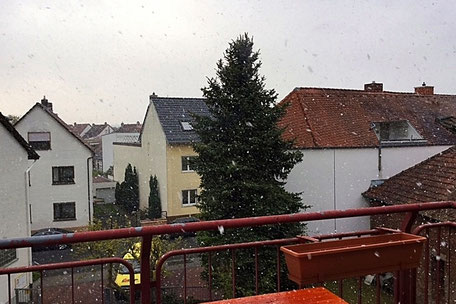 It was just last weekend that I discussed with my husband, which fruit trees we want to grow in our new garden. The weather was so nicely warm over the last weeks. Most lunch breaks, I spent outside on the balcony. The trees were covered over and over with blossoms. It seemed to be the perfect time to discuss the choice of apple, plum and cherry trees we want to plant. And then, I came and said that these trees should also be resistant against freeze. I think, my husband got quite irritated, now that we moved to the part of Germany that will hottest in the country.
And yes, sometimes, I am afraid myself that I see only and everywhere the risks of climate change - all the potential flooding risks in the case of an extreme rainfall event or us sweating in long heat waves. Now, that we are about to build our house, these thoughts get an even different dimension. I think about every drop that could fall or not fall and how that could affect us. Well, it would be embarrassing, if I urge others to take action to adapt to future climate change and I myself would close my eyes for the risks and build careless. Ok, we will insulate and shade, we plan a cistern for keeping rainwater under longer dry periods and we will have an eye on making our house as proof as possible against cloudbursts.
But do I care too much and go a bit over the top? Now it is also about frost-resistant plants in a hotter climate. Sounds a bit paranoid?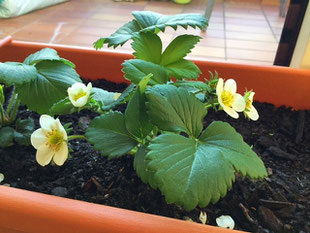 Yesterday morning we got a reminder: freezing degrees and snowflakes out of the sudden. Yes, spring comes indeed earlier and earlier here, but still temperature could drop below zero during April and May and damage all the nice blossoms. The risk for damages becomes even bigger because trees could now be hit in the mid of their flowering. It would be such a pity to wait for the trees to grow and then after all having a very small harvest. So after all, it doesn't seem such a bad idea to add another selection criterion.
 For now it is just the strawberries on the balcony and I can easily adapt by taking them in, but with the trees? ;-)