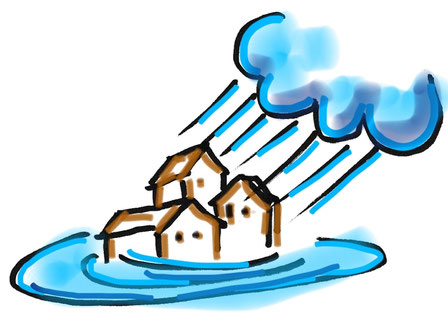 Leegebruch is a small place with 6500 inhabitants close to Berlin, a neighbour village of my hometown that I passed frequently as a child. There was nothing special about the place, but suddenly I find it in many German newspapers. What happened? On 29 June up to 250 litres per square meter of rainwater poured down over Berlin and its surroundings. The area of Leegebruch was hit particular hard.  In addition, it suffered much longer from flooding than other towns and villages nearby. Days later many parts were still under water. What was the reason?
As the name of the place indicates: "Bruch" is a German word for a swampy place. Legebruch is a grown out village build in a former swamp and natural depression. All the water of the area flows there. The sewage water needs to be pumped away and, on 29 June, this system broke down and many houses were flooded not just by rain but also rising sewage water.
Apart from the naturally vulnerable place, more human interventions have made the situation even worse. The place is surrounded by major roads and the motorway (Autobahn) which work as dams. There are only very small openings for the water. The place is locked in. The decision to build in a depression and to establish huge, expansive, long-lasting infrastructure make it hard to change the situation. There is no real solution in sight if such extreme event happens again. And more extreme rainfall events due to climate change are predicted for the future – however I couldn't find that challenge in any of the media coverage. Are people just closing their eyes for climate change impacts and hope it won't happen again?
There are several towns and cities build in quite vulnerable places, most prominent The Netherlands. People feel protected by dykes or pumps, but this recent example shows how vulnerable we can make ourselves, if we believe that our technical protection measures will never fail. What lessons will authorities and citizens draw out of this incident?