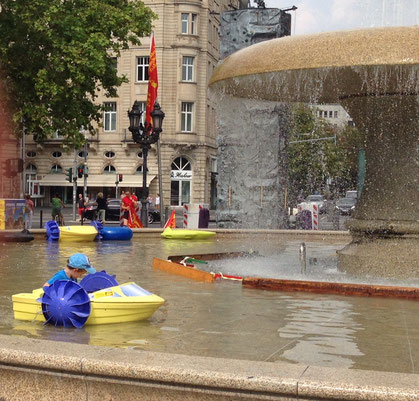 Usually, we wish us a nice summer here, but for weeks it is just hot and hotter here in the Frankfurt am Main area and else in Germany. Day temperatures around 35 degree became the new normal these weeks. Ok, some southern countries have even more. So, we probably should not complain so much? The main difference to southern European cities is that we are not prepares and can hardly get any relief. Apartments are heated up and night temperatures are too high to cool them down. Private air condition is not common and very expansive. So there is hardly any escape.
As such summer will be the new normal in a couple of years, we really have to rethink how we deal with the situation without making it worse by just individual and spontaneous response in heating our climate even further up with lots of single air conditionings requiring additional energy. What can we do to keep the heat out of the apartments and where can we find cool and accessible places? In my town it is just the two small supermarkets. Maybe, we can map, which places else are available or open places? I noticed the S-trains are climatised. Maybe I should by a day ticket and work from there?
But despite all the serious concerns and the urgent need to act effectively, I think we should should embrace summer not forget fun and creativity. Maybe we discover new places and ways.  Make a happening in the underground garage? Use our fountains differently or rediscover the value of public water posts, like I just have just discovered in Frankfurt.