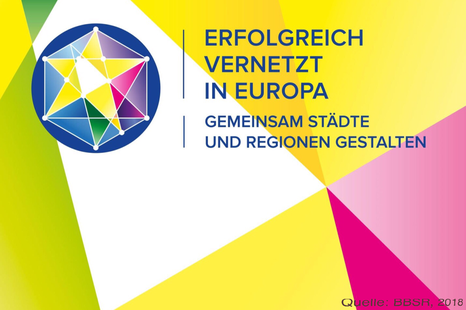 One could assume this and I am delighted that, together with the adelphi team, we have reached an important milestone in our project "Successfully connected in Europe – shaping cities and regions together" on behalf of the German ministry responsible for urban development. The borough of Lörrach and Weil am Rhein, the Geopark Vulkaneifel, the cities of Gudensberg and Munich have just been selected as the winners of the competition, which is an important part of this project. Congratulations! 
Why networking across Europe?
The participants in the competition clearly responded that they see added value from their networking activities, in particular, through the exchange of experience and knowledge that brings new ideas. European networking promotes discovering common solutions, enhancement of competencies and better access to EU funding. Following these networking activities, cities and regions can increase their attractiveness and local economy, e.g. by boosting tourism or through new business relationships/collaborations.
But…
In addition to the obligatory day-to-day business, networking across Europe is not a matter of course, especially, in many smaller and medium-sized cities and municipalities in Germany. While bilateral city partnerships with mutual visits and youth exchanges are relatively widespread and many border regions also cooperate with their direct neighbours; in the last decade, only around 500 of the approximately 11,000 German cities and municipalities and almost 85 regions actually took part in a broader multilateral exchange with several European partners through projects or network initiatives. As expected, large cities are already well connected, while with small towns with under 10 000 inhabitants, the proportion is only about 1%.
An opportunity for weaker and peripheral regions
In absolute terms, there are large differences in regional distribution: as expected, big cities and metropolitan areas are well connected, while northern and north-eastern Germany and parts of central Germany and Bavaria show little European connectivity. Most border regions focus on cross-border cooperation only.
However, if one considers the number of networking municipalities in relation to the number of inhabitants per federal state, also low-income states, such as Mecklenburg-Western Pomerania and Schleswig-Holstein, can compete with densely populated states such as Bavaria or Baden-Württemberg. Same, the per capita GDP in the federal states is not correlated with the degree of European networking. Municipalities in economically equally or higher rated states reveal, in some cases, less networking activities per inhabitant. It is possible that European networking in particular offers opportunities for low-income and peripheral municipalities to improve their attractiveness and economic performance.
But why is it ...
that so far only a few cities and municipalities seize these opportunities? And what could encourage more networking? The influencing factors are multifaceted, such as political will, language skills and cultural competencies, sometimes lengthy and complex application procedures or lack of staff and budget resources. As part of the further work, we examine these in depth. I would therefore be very happy if you could share your experiences in your country or EU with me. Thank you very much!