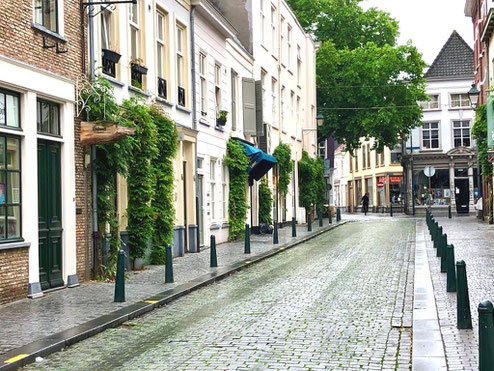 It was raining slightly, and I was on the way to my first meetings with team members of the EU Urban Innovative Action project GreenQuays in Breda, The Netherlands, that I am happy to support as external expert. Actually, I should be writing about the inspiring project on the nature-inclusive quays and I definitely will!!! However, as for this morning, other urban green caught my attention: 
How often have I heard already that green in narrow and historical streets is difficult to establish or simply not possible? But look at Breda's streets ...! With just a few square centimetres and a wire, they got it green.  It does not only look so much nicer, I find it also fits the old buildings well, without harming them. That's a nice way to go. Later, I have learned that there is a municipal programme in place to encourage and advice citizens on small private gardens and greening elements. It seems to work.
Turning around the next corner, I found a public space, where nature has been allowed to grow. You do not find the typical lawns but spots where nature can develop itself. I find it adorable to see such a space inside the city! The colleagues from Breda have told me that this space is a temporary installation, also used to test different concepts of urban greening before the final design of the area will be made and implemented. I am really excited to see that experiments are allowed in Breda, in which you are not 100% sure, how things will work out, but where you can learn from experience and adjust the design.  This mindset is a great starting point for the big innovative project on the GreenQuays as part of the broader Nieuwe Mark redevelopment.
More articles to come soon ....
Copyright for all pictures in this article: Birgit Georgi